Maple Armor | Fire Watcher series intelligent fire alarm system
Release date:2020-11-27
Maple Armor
As a leader in the fire industry, Jade Bird Fire has been adhering to the brand concept of "building a safe world", based on the global innovation and development strategy, and has formed a business expansion pattern covering North America, the Middle East, Europe, Korea and Indonesia.
Maple Armor Fire Alarm Device Co., Ltd. as an important deployment in the North American market, headquartered in Quebec, Canada, is a leading manufacturer of fire alarm equipment, dedicated to providing customers around the world with safety from high quality, full performance products.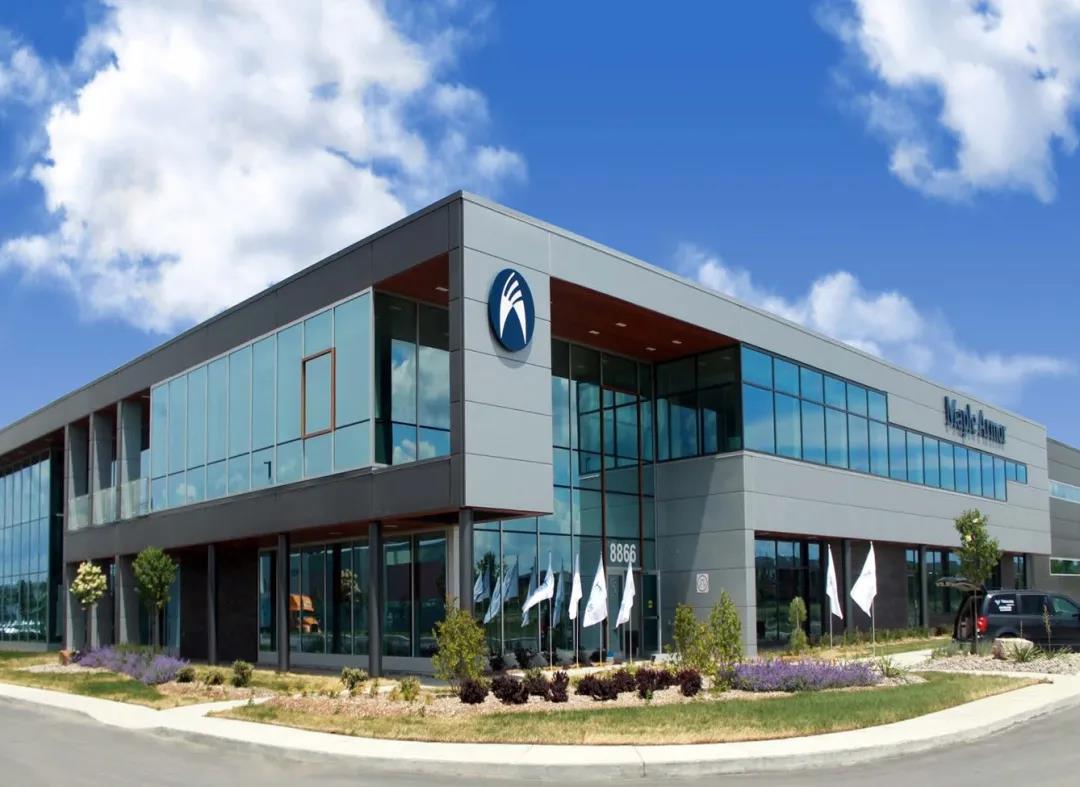 System Overview
The Fire Watcher series of intelligent automatic Fire alarm and control systems are designed based on the latest UL standards and specifications, combined with leading design concepts in the North American market. The products are certified by UL, ULC, FM, and FCC. All the products have passed strict testing and quality inspection to ensure that the performance of the products meets both UL certification and CCC certification, which can widely meet the market demand of fire alarm system in China, North America and other regions.
Fire Watcher series intelligent automatic Fire alarm control system mainly serves medium and high-end users. Generally applicable to the following typical places:
(1) Five-star hotels and high-end apartments
(2) Joint venture projects
(3) Large public construction projects, such as subways, airports, tunnels, etc.
(4) Middle and high-end projects
Highlight Advantages
1. Advanced technology and multiple certifications
Advanced design concept and embedded technology not only guarantee the smooth operation of the system, but also give consideration to the expansibility of the system. Products are based on the latest UL specification design requirements, and optimized for the Chinese market, with 3C, UL, FM, FCC certification.
2. Flexibility and Economical
The system circuit layout can be freely designed, supporting ClassA and ClassB wiring mode (support ring and branch scheme, T-shaped branch, etc.). Class A ring wiring mode ensures that the whole system can still work normally in the case of disconnection.
Floor display adopts two-wire system design, without the use of power cord and communication line, saving construction wiring costs.
The two-wire direct line loop can complete the start and stop control of the fire pump, fan and other large fire-fighting equipment by accessing the direct control input and output module. Low power consumption of direct control loop, communication distance is 1500m.
These flexibility in use enables customers to make the most use of their investment in the fire safety solutions, resulting in quick return of their investment.
3. Intelligent distributing technology makes the system stable and reliable
The technology is used in optical smoke detector, electronic temperature detector, manual fire alarm button, fire hydrant alarm button, field module, etc. With embedded microprocessor, the alarm speed is fast (1s), which wins valuable time for fire alarm.
Real-time monitoring changes of the field parameters, through the built-in high-performance microprocessors field parameters are collected for analysis, judgment, and the results posted through the loop bus to the controller, which greatly reduces the amount of information transmission between detector and controller, shortening the time of alarm, improving the reliability of fire alarm system.
4. The alarm speed is fast, system safe and reliable
Support "priority preemption and conflict arbitration mechanism", alarm and linkage real-time response, the time from manual alarm to device startup is no more than 1s.
All input and output lines of the system support single point grounding fault detection.
The system displays the working voltage of all panel units in real time and can sense the point type optical smoke fire detector and point type temperature fire detector to monitor the changes of field parameters in real time.
5. Sound and Light Synchronization
Support the synchronization of light flash and sound. Effectively avoid the disorder and panic caused by sound and light discoordination in emergency evacuation.
6. Powerful network function, flexible expansion
Firewatcher system has strong networking ability. The network adopts two-wire communication mode, and the nodes on the network (FW109 series fire alarm controller) are formed into an advanced master-slave network structure, which supports point-to-point mode, grouping mode and master-slave mode. Following the modular principle, the system has high reliability, simple maintainability, high scalability, high compatibility and performance.
Independent network port, network on once connected, communicate through 232 serial port and color graphic display control workstation. The network of the fire alarm controller supports ClassA, ClassB and ClassX wiring. ClassX wiring mode ensures that the whole system can work normally in the case of disconnection and short circuit, which greatly improves the stability of the network and supports the interactive operation between each other. One-button view of all controllers all information status, one-stop fire solutions, saves time, and improves efficiency.
Up to 99 network node devices can be connected on the network. RVS-2*1.5mm² is used for the maximum networking distance of 1000 meters between each 2 controllers, and the maximum networking distance of twisted pair can be 99 kilometers. It also supports the communication and interconnection with the fire alarm subsystem of the fire door and electrical fire system of the Jade Bird fire.
7. Modular design, visual centered user guide
The system adopts modular component technology, modular design, ALU, NOU, ROU units can be cut according to the need. Each function module unit has a rear plate protection design, which effectively avoids the accidental risk brought by exposed boards/cards.
Board card terminals are pluggable, each terminal has a clear mark. Installation, debugging, maintenance is convenient and fast.
The controller adopts multi-language operation interface, and the controller panel is screen-printed in Chinese and English. The system centralized display management control center has a friendly man-machine interface, which displays the fault point, the location of the alarm point, the type characteristics and other information in simplified Chinese in detail, highlighting the important system state information. Only the activated status can be seen visually, which is clear at a glance. The fire alarm controller has automatic test function, complete online and offline operation and programming function, which is convenient for the daily management and maintenance of users.
The monitor is equipped with a full set of standard QWERTY keyboard and special function keys, which can be programmed and set for alarm and control on controller in the field.
The controller has built-in large capacity memory, which can save various state information of the controller in the running process for a long time. The storage capacity of fire alarm, fault and other historical events is 1000+5000 pieces, convenient for information inquiry after the accident.
8. Electronic encoding is convenient
The field equipment adopts electronic encoding method, which saves the time of engineering debugging. The routing path can be designed freely and not in sequence, which improves the reliability of wiring, and is also convenient for threading construction and cable maintenance, and can greatly reduce the project cost.
The on-site debugging and commissioning of the system supports on-site programming and off-line programming with programming tools, and can check and compare the programs, which is easy to be used in installation, debugging and maintenance. Friendly and rich interface. With the RJ45 interface, offline programming supported, the system greatly reduces the time required for commissioning.
9. Large system capacity
A single loop can support 252 points at most, and the system can support 16 loops at most. Up to 99x4032 =399168 field devices can operate simultaneously to meet the needs of a variety of large systems.
10. Strong anti-interference ability
Both the hardware and software of the controller have adopted various anti-interference measures such as electromagnetic radiation and electromagnetic conduction suppression, high-frequency current discharge, etc. The anti-interference ability of the product is very strong, to ensure the normal and stable operation of the system in the case of bad electromagnetic environment.
11. Multi-function setting to meet the needs of different customers
Three warning(pre-alarm) functions are supported:
PAS warning function, two-stage alarm (ULC), TS warning function, AV warning function;
Support SilenceInhibit (prohibit sound-light silencing) for 0-20 minutes, default 5 minutes;
Support Trouble/SupervisoryResound echoes (failure).
12. Innovative LED light source design
The Horn Strobe adopts the world's first COB light source design, and the original all-angle light distribution patent technology (which has been protected by the North American patent) realizes the 360° all-angle high-light intensity visibility, with the maximum light intensity up to 177CD, and supports 6 adjustable levels, the lowest 15CD, suitable for various places, and visually impaired people can see. At the same time, it supports the synchronization of sound and light to avoid the stampede caused by disorderly alarm activation under the emergency state.
13. Complete product range
Product types are complete. The detector connected with the buzzing base can realize the autonomous acousto-optic alarm of the detector, and can be connected with the remote light indicator to realize the remote light alarm indication, to meet the needs of various types of engineering.
Comparison of characteristics between MA and domestic traditional automatic fire alarm controllers
| | | | |
| --- | --- | --- | --- |
| Serial | Items compared | Traditional brand | Maple Armor |
| n1 | Certification | CCCF | CCCF/UL/ULC/FM/FCC |
| 2 | Loop cable laying | Tree branch type | Circular loop type, tree branch type, stub type |
| 3 | Networking cable wiring | Class B | Class A, Class B, Class X |
| 4 | Pre-alarm | Not supported | PAS pre-alarm, TS pre-alarm, AV pre-alarm |
| 5 | Fault resound | Not supported | Supported |
| 6 | SilenceInhibit | Not supported | Supported |
| 7 | Alarm synchronization | Not supported | Supported |
| 8 | Addressable LED, adjustable horn strobe | Not supported | Supported |
| 9 | Real-time unit voltage display | Not supported | Supported |
| 10 | Ground fault displaying | Not supported | Supported |
| 11 | System configuration online checking | Not supported | Supported |
| 12 | Fire repeater cable laying | Not supported | Supported |
| 13 | Automatic addressing | Not supported | Supported |
| 14 | Loop cable laying | Communication cable+24V | Two-wire bus loop, addressable |
| 15 | Networking cable wiring | Not supported | Supported |
System composition
Firewatcher series intelligent automatic fire alarm control system is composed of FW109 automatic fire alarm controller (automatic), manual call point, smoke detector, module and other field devices.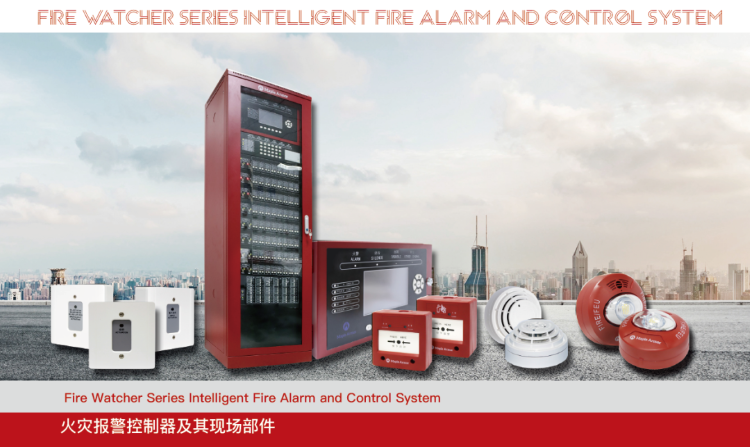 1. The controller
FW109 automatic fire alarm controller (automatic) adopts vertical cabinet design, the controller has a 7-inch color LCD display, built-in 32-bit embedded microprocessor, with multiple language switching functions, support Class A and Class B loop wiring and PAS/TS warning functions. The controller has a built-in printer. The system power supply is included, and no standby power is included. 12V24Ah battery pack needs to be ordered separately.
The basic model includes: 1 set of FW327 loop unit with a total of 252 points of alarm and control points; 1 set of FW241 direct control unit with a total of 8 direct control sets. Expansion type can be configured up to 16 sets of FW327 loop units, a total of 4032 alarm points and linkage points; Up to 8 sets of FW241 direct control units can be configured, a total of 64 sets of direct control.
2. External devices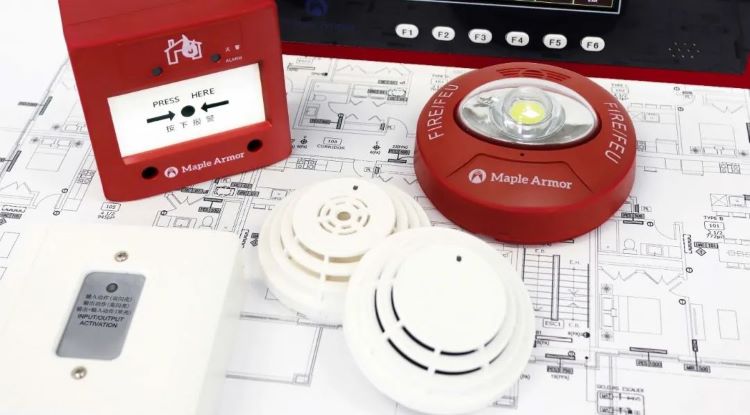 Detectors
Point type optical smoke detector: FW511
Point type heat detector: FW521
Detector base: FW500
Modules
Input module: FW811H
Input/Output module: FW821H
Broadcast module: FW862
Loop isolating module: FW851H
Relay module: FW845
Module base: FW800
MCP, Hydrant buttons
MCP: FW723, FW728, FW728P
Hydrant button: FW724, FW729
Base: FW700
Horn strobe, Fire repeater
Non-addressable horn strobe: FW962R
Addressable horn strobe: FW963AR
Horn strobe base: FW900
Fire repeater: FW123, FW125
Cases
Fire Watcher series intelligent fire alarm control system has been used in various projects: Winnipeg Value Village, Mayhewin General Truck Center, Club16 Trevor Linden Fitness, Edmonton GameTime center, 1000 Island Playhouse, Portage la Prairie Nutri-Pea food processing factory, Suzhou Guoxiang National Power Pipeline Corridor Project, Thailand one9five luxurious hotels.